Check Availability This Room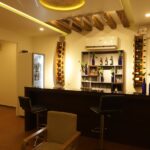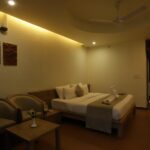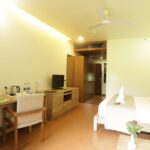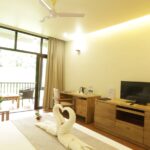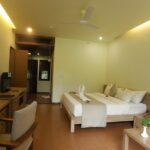 Welcome to Whispering Water Resort, where the Priyar Garden View Rooms offer a delightful experience surrounded by the lush beauty of nature. Our Garden View Rooms are meticulously designed to provide a serene ambiance with picturesque views of the enchanting Priyar gardens.
Immerse yourself in the tranquility and natural splendor as you unwind in our spacious and comfortable Priyar Garden View Rooms. Each room is adorned with large windows, allowing you to enjoy panoramic views of the vibrant gardens, filled with colorful flowers and verdant foliage.
Experience utmost comfort and relaxation with our cozy beds, ensuring a restful sleep after a day of exploring the wonders of Whispering Water Resort. Step into your private en-suite bathroom, complete with a bathtub and shower, where you can pamper yourself and rejuvenate your senses.
Stay seamlessly connected during your stay with our fast WiFi connection, ensuring you can easily stay in touch with loved ones or browse the internet at your convenience. For your entertainment, satellite TV is provided, offering a wide array of channels to cater to your preferences.
We understand the importance of convenience for our guests, which is why our rooms feature international standard electric sockets. You can conveniently charge your devices without the need for adapters or converters.
At Whispering Water Resort, we are committed to providing a serene and luxurious retreat for our guests. The Priyar Garden View Rooms encapsulate the essence of tranquility, allowing you to immerse yourself in the natural beauty of the surrounding gardens. Let the soothing ambiance and captivating views envelop you, providing a rejuvenating experience that will leave you feeling refreshed and inspired.
Room Service
Balcony / Terrace
Bathroom Amenities
Cable TV
Mini Fridge
Coffee Table
Hot / Cold Running Water
Extra Bed, Towels, Bedding
Toiletries
Mineral Water
Mirror
Handheld Showers
Ironing Board
Tea Coffee Supplies with Kettle
Regular plan
| Mon | Tue | Wed | Thu | Fri | Sat | Sun |
| --- | --- | --- | --- | --- | --- | --- |
| ₹ 7,000.0 | ₹ 7,000.0 | ₹ 7,000.0 | ₹ 7,000.0 | ₹ 7,000.0 | ₹ 7,000.0 | ₹ 7,000.0 |