When the first crescent moon marks the beginning of Chingam, the Malayali New Year, the people of Kerala prepare for Onam, a vibrant and richly traditional harvest festival. For anyone looking to partake in this celebration, there's no better place than Whispering Waters Resort, one of the finest resorts near Cochin.
Ten days are spent celebrating Onam, and each day has a special meaning. The event starts with Atham when people decorate their doorsteps with elaborate floral arrangements called "Pookalam" to welcome King Mahabali. Each day, these patterns get bigger and more intricate, reaching their peak on the tenth day, Thiruvonam, the festival's main day.
On the banks of the picturesque Periyar River, Whispering Waters Resort offers a perfect Day out destination near Cochin. This resort, which is surrounded by lush greenery and tranquil rivers, offers a unique blend of luxury and nature, making it the ideal setting for taking in the majestic Onam celebration.
Onam festivities span ten days, with each day having its unique significance. The festival begins with Atham, where people draw intricate floral arrangements or 'Pookalam' at their doorsteps to welcome King Mahabali. These designs grow larger and more complex each day, culminating on the tenth day, Thiruvonam, the main day of the festival.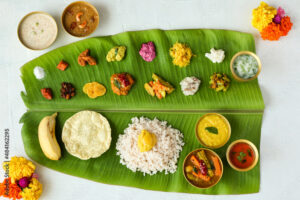 The grand finale of Onam is the lavish feast known as Onasadhya and the highlight at the resort is the Onam Sadya. The expert chefs at the resort prepare this scrumptious meal, serving over twenty-six vegetarian dishes. Served on a banana leaf, this vegetarian meal includes an array of up to 26 dishes. The dishes are carefully arranged on the leaf, each in its designated spot. Rice is the main component, served with Sambar, Rasam, Pulisseri, Avial, Thoran, Olan, Pachadi, Kichadi, and more. Sweet dishes like Payasam and Prathaman are also a part of this grand feast. the feast is a delightful mix of flavors, with every dish narrating a tale of Kerala's rich culinary heritage.
Onam is not just about feasting and floral arrangements; it also involves a host of traditional games known as Onakalikal. These games encompass a wide range of activities, Start from boat races (Vallamkali), Tug of War (Vadamvali), Archery (Ambeyyal), and Kabaddi are other popular games during this period. There are also indoor games like Onappottan, a dress-up game, and Thumbi Thullal, a women's dance circle, that reflect the festival's communal harmony.
Whispering Waters Resort stands as one of the finest resorts in Cochin, not just for its exceptional Onam celebration but also for the year-round amenities it offers. From luxurious accommodations to exceptional dining options and a myriad of recreational activities, it serves as an ideal retreat for families, couples, and solo travelers alike.
Onam at Whispering Waters Resort is undoubtedly an experience of a lifetime. So, if you're seeking a culturally enriching getaway or a day out destination near Cochin, this resort is the place to be. It offers a blend of luxurious comfort and traditional festivities, promising unforgettable memories of Kerala's most cherished festival, Onam.
There's no better way to experience the culture, cuisine, and charm of Kerala than to celebrate Onam at Whispering Waters Resort. As one of the premier resorts near Cochin, we provide an exceptional blend of tradition and luxury, promising an Onam celebration that you'll cherish for years to come.